Voice Ecology Workshop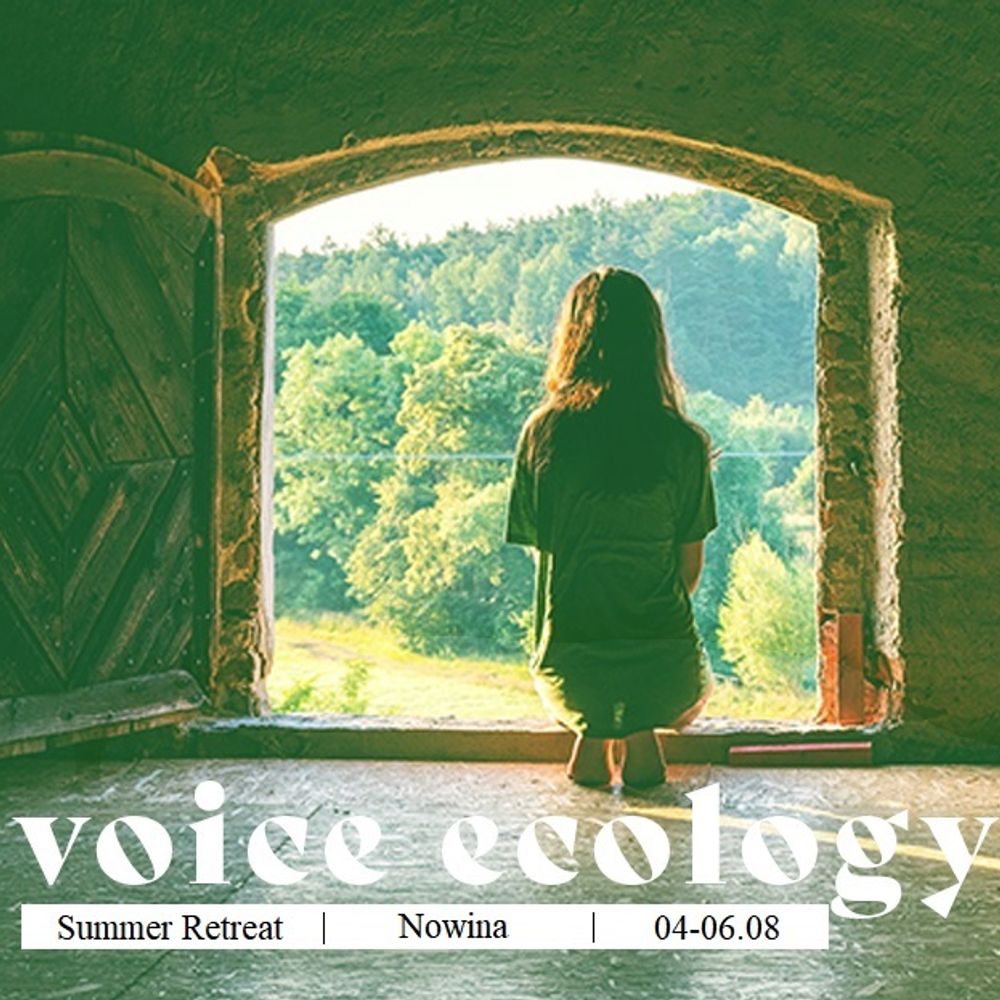 Weekend workshop in the beautiful location of Nowina, Poland
[English]
Voice Ecology is a vocal training approach that explores our voice as a tool for self-discovery, expression and connecting to nature.
It is built on rigorous, playful and carefully directed improvisation combined with mindfulness exercises and followed by discussion. Voice exploration unlocks tremendous power for play, expression and discovery - of ourselves and others. And we always have a lot of fun!
The sessions are guided by Sam Alty and held primarily in English but the language is not the limit here - even if you don't feel confident with English, you can participate fully. Polish translation can be provided. And we will mostly communicate with other means
----------------
Workshops include:
• physical and vocal warm up
• breath practice
• centering ourselves
• group focus and tuning
• meditation
• improvisation exercises
• discussion
----------------
Price:
550zł (50zł deposit)
To REGISTER, or with any questions, email: vox.ecology@gmail.com
----------------
Samuel Alty is an award-winning composer, songwriter, physical theatre performer, musical director, activist, and teacher. Based in Poland since 2011 he has been associated with the Song of the Goat Theatre, Studio Matejka and the Grotowski Institute. He has performed and led workshops internationally and was the receiver of the Best Music Award in Ozdemir Nutku Theatre Awards (Turkey). The video for his song 'Where the Sea Meets the Land' was nominated for the North Europe International Film Festival.
Learning musical instruments came easy to Alty but the voice did not. From sounding like a "dying cat" he now uses his voice professionally, runs vocal workshops, and has released songs played frequently on streaming services and radio. Alty guides his workshops full of empathy and has a deep respect for the process people undergo when they feel ready to work with their voices.
-:-:-:-:-:-:-:-:-:-:-:-:-:-:-:-:-:-:-:-:-:-:-:-:-:-:-:-:-:-:-:-:-:-:-:-:-:-:-:-:-:-:-:-:-:-:-:-:-:-:
[Polski]
Voice Ecology to podejście w treningu wokalnym, w którym eksplorujemy głos jest jako narzędzie do samopoznania, ekspresji i połączenia z naturą.
Opiera się na rygorystycznej, radosnej i starannie prowadzonej improwizacji połączonej z ćwiczeniami mindfulness, zakończonej dyskusją. Eksploracja głosu może wyzwolić ogromny potencjał kreatywny, do ekspresji i odkrywania - siebie i innych. A przy tym jest świetną zabawą!
Sesje prowadzone są przez Sama Alty i odbywają się głównie w języku angielskim, ale to nie jest ograniczeniem - nawet jeśli nie czujesz się pewnie w tym języku, możesz w pełni uczestniczyć w zajęciach. Istnieje możliwość zapewnienia polskiego tłumaczenia. A porozumiewać się będziemy głównie za pomocą innych środków
----------------
Warsztaty obejmują:
- rozgrzewkę fizyczną i wokalną
- praktykę oddechu
- kontakt ze sobą
- skupienie i dostrojenie grupy
- medytacje
- ćwiczenia improwizacyjne
- dyskusje
----------------
W celu REZERWACJI MIEJSCA, lub z jakimikolwiek pytaniami, odezwij się na: vox.ecology@gmail.com
----------------
Samuel Alty jest wielokrotnie nagradzanym kompozytorem, autorem tekstów, performerem teatru fizycznego, dyrektorem muzycznym, aktywistą i nauczycielem. Od 2011 roku mieszka w Polsce i jest związany z Teatrem Pieśń Kozła, Studiem Matejka i Instytutem Grotowskiego. Występował i prowadził warsztaty na arenie międzynarodowej, był odbiorcą nagrody Best Music Award w Ozdemir Nutku Theatre Awards (Turcja). Teledysk do jego piosenki "Where the Sea Meets the Land" był nominowany na North Europe International Film Festival.
Nauka instrumentów muzycznych przyszła Alty'emu łatwo, ale głosu nie. Od brzmiącego jak "umierający kot" głosu używa teraz zawodowo, prowadzi warsztaty wokalne, a jego piosenki są często grane w serwisach streamingowych i radiu. Alty prowadzi swoje warsztaty pełne empatii i głębokiego szacunku dla procesu, jaki przechodzą ludzie, gdy czują się gotowi do pracy z głosem.
-:-:-:-:-:-:-:-:-:-:-:-:-:-:-:-:-:-:-:-:-:-:-:-:-:-:-:-:-:-:-:-:-:-:-:-:-:-:-:-:-:-:-:-:-:-:-:-:-:-:
Event cover photo: Kasia Sałata
www.instagram.com/kasiasalata